Copyright
If you intend to copy the contained text, drawings or paintings, please give the name of the author (Kadrane) and the address of these web site (http://www.kadrane.com).
This copyright enables you to copy or print the content of this website so many times you want for you own usage. The only restriction concerns the publication by other people. In such a case, the author name (Kadrane) and the website (http://www.kadrane.com) must be clearly referred.
For instance, if you intend to insert pictures from this website as illustration into an article posted on the web, the only obligation for you is to add at a visible position (e.g. at the end of the article) a readable text like this one: "Illustrations drawn by Kadrane (http://www.kadrane.com)".
If you intend to sale publications (books, newspaper, etc) containing pictures from this website, there is no fees if references to the author name and to this site are clear and explicit.
This copyright forbids explicitly to modify these pictures.
This copyright forbibs explicitly to reuse these pictures as signed by somebody else than Kadrane.
If you have questions about this copyright, please ask on the email
.
Who is Kadrane?
Kadrane is born at Anderlecht in 1965. Nine years old, he followed the path of his father and wrote his first novel. Later Pierre Wattiez Watch, a belgian artist, taught him drawing and another way to tell stories: the comics. In 1988, Kadrane came back to the writing. He signed three novels in very different areas like science fiction or today stories. He did not give up his second hobby as he illustrated his own texts. Since 1999, his production is made known on the Net. He has made sketches for five novels of other authors in the «Galion Aventures» editions. See bibliography.
Kadrane's inspiration is not only related to heroic fantasy and science fiction (Elfs and Dragons), but he likes also to illustrate the today world including social live and more precisely relation parent-children inside families. He draws with pencil, Chinese ink, water colours and acrylic. Since last year (2004), he's experiencing small animations (animated GIF or PNG).
Kadrane's activity (80% of work time) up to now was related to computer sciences, automatic control, mechanics and electricity. That's a bit less poetic...
Services
If you like my drawings or my paintings and if you have a project to submit, please feel free to send a message to
. For instance, to illustrate one of your texts, to make a painting or a sketch for you or a friend. It will be a pleasure for me to discuss about it:
I illustrate books and I make covers.

I paint with watercolour en acrylic. Most of my paintings can be found on my site. Some of them are for sales by eBay (See the shop). When the subject is free, I choose often fantasy themes with Dragons and Elves. I accept also orders with given subjects.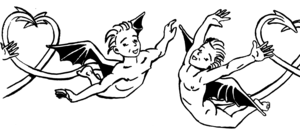 I've made some proposals for tattooing.
Webcomics, drawing, painting: A job or a hobby?
Difficult question. Others are writing about the subject better than me:
Non verbal comics
I live in Belgium a multi-cultural and multi-lingual country. Here peoples speak dutch, french and all other european languages. I have limited my site to only three languages: Dutch (approximative as I'm not very fluent), French (as native), English (for international support). Even in these conditions, maintaining the different language versions of this site is a hard work as I am alone to do it. In these conditions, you understand easily my choice to write non-verbal comics.
In addition, non verbal comics are interesting challenge: keep suspense, use the language body to replace words, express complex situations without supporting text...
This site is powered by
This site is maintained by scripts written with PHP 5.
De PDF files for webcomics are generated with the library

. The other PDF files are exported from OpenOffice.
Others
This section contains only a few links related to exchanges between similar sites. A lot more can be found in search engines.